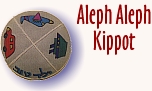 Aleph Aleph Kippot
The Kippa (or Yarmelke) has covered the Jewish head from ancient times. The wide variety of Kippot represents the whole range of Jewish communities and historical settings.
Today the tradition is to make Kippot for special occasions. They are personalized with the name of the celebrants and given out as souvenirs to the guests. At Aleph Aleph Kippot our staff of design experts strive to produce the right Kippa for your Simcha.
The Kippa has also become a successful promotional item. We take pride for having produced specialty-Kippot for:
Tower Air
Israel Bonds
The Jewish Agency
The Kenest
The Great Synagogue of Jerusalem
The Gutnick Center
the Likud Party
the Labor Party
numerous local government authorities
and many organizations.
Over the past ten years we have become known in Israel and internationally for customer satisfaction and attention to detail. Today we are the largest manufacture of Kippot in Israel's capital, Jerusalem, and have the largest variety of velvet, suede, and satin Kippot.
We look forward to helping you celebrate you next Simcha.

Take a look at our range of kippot, and select your kippa.
Go to Order Form to place your order.

For further information, write to israelVisit .

---